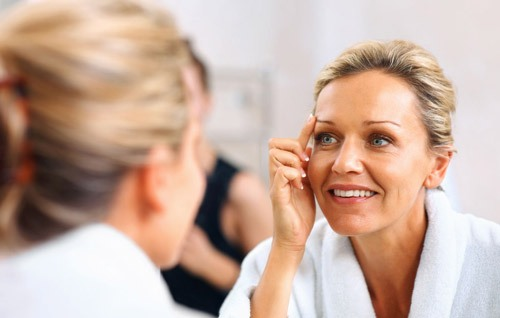 1. Cleanse skin and pat dry thoroughly – (consider using Botaniks Co Jojoba Oil – it makes a great cleanser!)

Why it's important: cleansing skin removes pore-clogging dirt, oil and cellular debris that accumulate daily or overnight. Not deep-cleansing skin daily with the right product can lead to even more problems with clogging and (tip: 'just say no' to bar soap – liquid cleansers often clean more deeply and rinse off better!)

2. Apply toner, if using (a good idea, especially if skin is sensitive or prone to breakouts.)

Why it's important: toner helps to revive and perk up skin – much like a cup of coffee first thing in the morning gives a 'wake-up call.' Toner helps improve circulation to the skin for a healthier 'glow.' Try to avoid toners with alcohol, however, as those may have a drying effect, especially in winter.

3. Apply Vitamin C Serum – start with a small amount and apply to face, neck and décolleté area, allowing it to dry before following with moisturizer and makeup. Why it's important: Vitamin C reduces wrinkles, age spots, and produces healthy collagen production for anti-aging protection. The Vitamin C Serum's anti-oxidants also help heal old acne scars and post-breakout redness, leaving skin clearer and smoother. It also helps boost your sunscreen's effectiveness by promoting your skin's own defense.

4. Follow up with a gentle but effective moisturizer (Jojoba Oil also softens and conditions skin as well as helps with cleansing.)

Why it's important: Moisturizing with a gentle, non-pore clogging product is essential for a younger-looking skin. Moisturizing protects skin from the effects of weather and sunlight, as well as dry indoor climates. While it should be part of your daily routine year-round, moisturizing is especially necessary in the colder winter months in those parts of the world where indoor heat and winds deplete precious moisture from skin.

5. Finally, moisturizing with Argan Oil, used by the Mideast's most beautiful women since 1550 B.C., is another highly recommended moisturizer.

Why it's important – Argan oil is proven to help reduce signs of aging by reducing the appearance of wrinkles, strengthening nails and hair and helping prevent further skin aging.

The Botaniks Co company are researchers and creators of natural skin care products that are organic, cruelty-free, and dermatologist-recommended. Botaniks Co products are proudly made in the U.S.A. in FDA-registered facilities under GMP guidelines and are fully guaranteed.